FreeForm F80 Folding Treadmill 3HP Light Commercial Motor
Stock

Warranty

5 Year on frame

FREE DELIVERY

Yes
FreeForm F80 Folding Treadmill
The FreeForm F80 Marathon Runner Treadmill with Polar Wireless Receiver & Chest Belt will have you pushing your limits and breaking through the wall.

Quickly and easily select any speed from 1km/hr to a monstrous 20km/hr with a single button press on the OneTouch Quick Speed Controls powered by the HiTorque 3.0 Continuous Horse Power Commercial Motor.

Built-in app interactivity and Preset Programs work like having your own Personal Trainer assisting you to achieve your running or sports training goals.

You will also be staying in the right workout zone with the included Polar Wireless Receiver and Chest Belt.
Do you qualify for an additional discount on this? Why not chat with us to find out?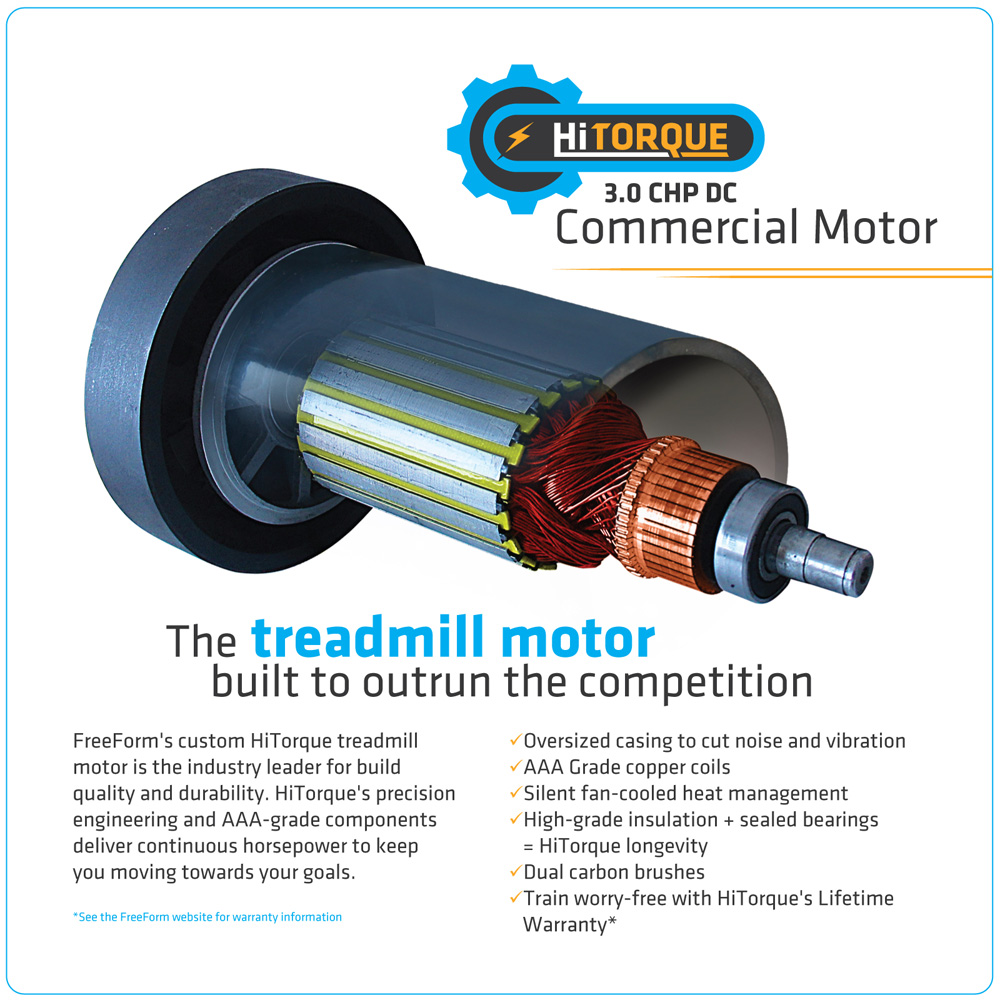 | | |
| --- | --- |
| SKU | FF-F80 |
| Condition | New |
| Console display | LCD Screen, 400m running track, media view platform |
| Workout Programs | 15 + 3 User + 1 Fat |
| Max user weight | 160 kgs |
| Motor HP | 5.0 HP (Peak) 3.0 CHP DC Motor (Continuous HP) |
| Speed (Km) | Speed: 1-20 km/h OneTouch Quick Speed Controls for fast speed adjustments |
| Elevation (%) | 0-15% One touch quick incline control |
| Running area | 143cm x 51cm |
| Heart Rate Monitor | Yes |
| Heart Rate Control | Yes, |
| Operating Environment | Home, Light Commercial |
| Foldable Treadmill? | Yes |
| Deck and Cushioning | FreeFlex Precision Cushioning, Support where you need it. |
| Soft Drop System | Yes |
| Warranty - Frame / Motor / Parts | Life / 10 Years / 1 Year, Return to Base |
| Free UK Delivery | Yes |
| Delivery Time | 5 to 7 Days |
| Size L/W/H | 185cm x 83cm x 133cm |
| Product Weight | 77 kg |
| Size (Boxed) | 188cm x 85cm x 37cm |
| Additional Features | FreeMix 5.0 Sound, Belt Protect, Safety Assist |
Helgard Van der Westhuizen
The service from Jared was excellent and he went out of his way to deliver the product on time.
---
Roger
I bought the F80 so that I can keep up my marathon training when the weather isnt too good. So far I have been using it for 4 months and it has been a great addition to my training routine! Would recommend it to my friends.
---
Alexander Hammond
Very helpful
---
Milton Mccoy
Great value for money
---
Jermaine Mills
Excellent service from gym and fitness
---
Douglas Burke
Best treadmill we had at the office
---
Tara
I love running but I already failed to keep up my usual training after I gave birth. My running mate told me I just need a couple of months training and I can get back to running. I bought this treadmill and the results are amazing. I lost weight and my legs are even firmer than before. I am so happy and excited for my daily run.
---
Tom
Set a goal to begin training for long distance running and decided on the F80 after a fair bit of research. Im very happy so far with my decision and the console is very easy to use compared to my old treadmill.
---
Kennedy
Great treadmill to keep my fitness level good and my wife happy. Have been using the F80 for about 8 months now and couldnt be happier.
---
Kathleen
I want to exercise but I don't have the time. My sister recommended this treadmill so I bought one. It is so easy to set up, and such a great value for money. My 69 year old mother is now light walking on it and I don't worry because the unit is stable and the safety features are awesome!
---
Roger
I bought the F80 so that I can keep up my marathon training when the weather isnt too good. So far I have been using it for 4 months and it has been a great addition to my training routine! Would recommend it to my friends.
---
Margaret
This treadmill is a perfect solution to my weight loss goals. It burns calories faster than any other in-home treadmills I bought before. This is perfect for what I need it for and I just can't wait to see my weight loss results!!!
---
Lizy
I just love everything about this treadmill. Exercising at home has never been this fun. I can move around my treadmill anywhere in the house. I can set it up in the family room so I could watch TV with my kids or I can just place it in my room and workout while watching tv on my tablet which fits perfectly on my F80 Treadmill.
---
Kylie G.
I appreciate gym equipment innovators who consider the future users of the equipment. I love how the F80 Marathon Runner Treadmill is designed to be customized. Speed and incline are easily adjusted, while on-board programming allows me to listen to music or watch my favorite show while running on a wide tread area. I highly recommend this product to every runner out there.
---
Rick J.
Running on any treadmill has never been this fun and enjoyable, maybe because I'm using a piece of equipment I can call my own, but maybe also because of the outstanding quality of FreeForm treadmills. I have been dreaming of getting one since the day I used one on the gym!
---
Manraj L.
I'm always in the right workout zone with the freeform f80 marathon runner treadmill. Favorite functions are the built in fan, the media view platform and the free mix sound system. They keep me going and energize me as I run. Nice machine that deserves my five stars.
---
Tracy R.
The F80 Marathon Runner Treadmill is my ultimate trainer before I join marathons, competitions, and even triathlons. I cannot see myself using any other brand or machine. The F80 is my first love and I'm sure it deserves to be loved by others, too. I highly recommend it!
---
Vivien V.
Probably one of the most functional treadmills in the market today. I recommend this to anyone who's looking for a high quality machine at an affordable price.
---
Kim M.
I participate in triathlons at least twice a month. This is what I always use to train--it's functional, modern, and practical. Helps me prepare for a long run.
---
Anton J.
The Freeform F80 has helped me train for countless of marathons by now. When I'm not out for a run, I'd be seen running on F80's tread area. Greatest exercise equipment in my personal gym.
---
Ramon Singleton
Best training buddy I bought so far
---
Archie Boyd
My first running body
---
Oliver Hart
Bought Freeform F80 for My Dad
---
Craig Welch
Great features and more
---
Sean Gilbert
My first 5k and I won
---
Scott Hampton
Was better than I expected
---
Francis Mcdaniel
Loving my new treadmill
---
Guest
I wasn't initially going to purchase this treadmill but ended up getting it as the other was out of stock. I am thrilled that I went with this one though. It is brilliant. It was easy to assemble and easy to use. I am so glad I decided to purchase this for home. The media/en. Terrain mentioned function is handy and using the heart rate monitor function to guide my pace and on line feels like I have someone there guiding me and pushing me. I would happily recommend this treadmill to anyone looking for a convenient workout at home. I can safely go for a jog anytime I want.
---
Tonette
My husband and I are running a family business and since we close late, we can no longer go to the gym. I thought of surprising him with this treadmill and he's so happy. Now we see to it we work out together at home an hour after work and we have never felt so healthy. The fan is a great addition and the music also helps a lot to keep us motivated!
---
Lydia
Bought the Freeform F80 because it was heavier duty than the others and we love it! Im training to compete in our yearly marathon and using the F80 every day and very happy so far.
---
Rachel
Setting up was very simple especially for those who don't like reading manuals. It is very convenient to use and easy to store away when not in the mood to exercise. My favorite? I just love being able to plug my iPhone straight in this treadmill and have the speakers. Highly recommended!
---
Sherry
I have never been this happy with my weight before until I found this treadmill. It is so fun and easy to use, and with its multiple range of preset programs I can easily plan what variations of exercise I should make to burn more calories. I can increase and decrease my speed easily and so easy to store too when not in use.
---
Carol
I bought this F80 treadmill and in 2 weeks time I lost 2.5 kilos. It is so amazing. My friends couldn't believe I can burn calories that fast at home. I love the calories display and the phone/tablet stand which allows me to work out while watching my favorite shows on my tablet
---
What is Belt Protect?
This has to do with the quality of roller we use, We use a commercial type rollers to prolong the life of the belt reducing maintenance as well. In the long run this quality component saves you on wear and tear items such as the running belt. It is important to take this into account when buying a treadmill as a cheaper treadmill with no belt protect may end up costing you a lot more in the long run.
What is Safety Assist?
This is the safety key power off feature to prevent injury if a user loses their balance or begins to fall off the treadmill
What is FreeFlex?
FreeFlex cushioning is an advanced form of cushioning system. We added FreeFlex cushioning to reduce impact caused by running on the road. The system consists of a special type of shock absorbent rubber which is strategically and scientifically placed under the treadmill running surface to reduce impact and injury. When you run on a treadmill there are three important positions for the foot including the landing, the transition and the lift. You need to have more support under the landing and the lift.

Cheaper models of treadmills often don't have a variable cushioning system such as the FreeFlex system. Check before you buy and avoid nasty and avoidable injuries.